Mike Lee
Director of Programs
Destiny Arts Center
You can't just tell them to go out there and "build social capital," you can't even just tell them to just "network." You've got to break it down to the core and meet them where they are as an individual.

MIKE LEE
Mike Lee is the Director of Programs at Destiny Arts Center. He works to provide programmatic oversight for center-based work and school and community sites. Mike has been with Destiny since 2019. Born and raised in Oakland, California, Mike believes that investing in young people is one of the most valuable things a society can do and is committed to ensuring that Oakland maintains safe spaces for creative expression and youth development. In addition to his work at Destiny, Mike provides training through A Better Way and Fred Finch Youth Center on best practices for working with transition-age youth. Mike founded a local charitable group, Give Oakland, which provides support during the holidays for Oakland Head Start programs. He served as an advisor in both the research and research activation phase of Equitable Futures.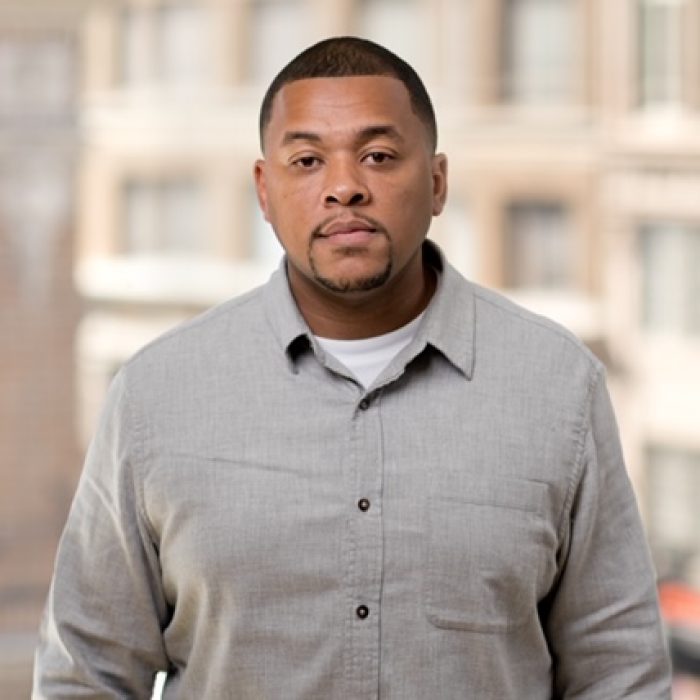 I started my career as a social worker, and I guess you could say that I bring a social work lens and a community health lens to everything I do. I came to Destiny Arts from Youth Radio, which is now called YRMedia. At Youth Radio, I led workforce development and helped build relationships with employer partners, and let me tell you: one of the biggest lessons I've learned in working with young people is that you can't go into it thinking, it's the young people who have got to change. It's never been an issue that young people don't have dreams and don't want to work. It's more that young people — especially Black and Brown young people — are pushing back against external factors that pull them away from their dreams and their pathways to success, and we have to help them persevere, and at the same time change the systems so that young people don't get blocked all the time when they pursue their goals.
I was asked to be a part of the Equitable Futures advisory group, and it was really valuable, meeting people who do different roles related to youth development and workforce development. I found the research and the conversations about tools and resources to be useful, but I'll be honest, at first the language didn't feel relatable to young people that I interfaced with. Like, "social capital" was a big part of what we discussed in the advisory group, about how young people need those connections and networks to try on different experiences and move forward on their pathways. But that is not a term I would ever use — I would instead say "networking," and I don't know if that's dated or not, but it's about how you relate the term to young people's experiences: helping them to build rapport and relationships with people who can help get you to where you want to go in life.
Most of the young people I meet at Destiny want to be performing artists in some capacity. You can't just tell them to go out there and "build social capital," you can't even just tell them to just "network." You've got to break it down to the core and meet them where they are as an individual. If you make a special effort to reach out to the right people and introduce yourself and ask for advice, and if you stay in touch, someday that person might say, "hey, I remember this kid who talked to me," and help that person.
The research from Equitable Futures provided evidence that the lived experiences of young people really matters for people like me, who want to help young people succeed in whatever their goals are, whether it be school or work. Some adults who work with kids, they're already there, when it comes to hearing and really integrating young people's lived experiences. But some people lack that, to be honest. There are adults who come to this work thinking, these kids need saving (savior complex). So they don't really listen to what the kids want so they can support them on their goals and on the specific things they really want to do but they push them to where they think they should be.
Equitable Futures is like Destiny Arts in that you start by listening to what young people actually think and want and feel. But even with that alignment, that doesn't mean that you can just pick up the tools and resources and start applying them immediately to the work that you do. You've got to first sit with it and think to yourself: does this match what I know about young people? Is this relevant to the experiences of young people I know and work with? And if it does, what am I going to do with that? How can I challenge myself–and others–to make the work we're doing more youth-friendly?
With the toolkit, I hope that more of us can think about how to center young people in our work so we can do better at what we do. But beyond that, I hope we can be better champions for young people outside of our jobs. Being a part of Equitable Futures helped me look beyond my day-to-day work and check it against what was happening elsewhere, what the latest trends and evidence was showing. Like, working at Destiny Arts, I'm pretty focused on young people in Oakland and how they're doing. But being a part of Equitable Futures helped me think about what's happening on the East Coast and how some of the trends in youth development over there might be similar, or might be different. Sometimes, you've got to focus on what's in front of you; sometimes, you lift your head up and there are good ideas out there that help you make sense of your work and bring all of the different pieces together.
Explore More Voices
Voices from the Field
Youth Quote Library