Eshauna Smith
Former CEO
Urban Alliance
So if there was ever a time when we needed actionable tools to help us understand what is going on with young people right now, and still support them to reach their future goals, this is it. And this toolkit can be an important primer for nonprofits and for policymakers to understand that and how to create youth-centered roadmaps for real systemic change.

ESHAUNA SMITH
Eshauna Smith is the Director of Community Mobilization on the Group Philanthropy team of the Ballmer Group, an advisory and grantmaking group. In this role, Eshauna will help to improve economic mobility and reduce racial disparities at scale through place-based partnerships. Prior to this role, Eshauna served for eight years as the President and then CEO of Urban Alliance, a national organization dedicated to giving young people in high school training, support, and paid internships to succeed in their future careers. At Urban Alliance, Eshauna built the organization's culture of results and use of data-driven approaches and deepened the organization's core value centered on putting students first. Before joining Urban, Eshauna served as the Senior Policy Advisor for Disconnected Youth and Workforce Development in the DC Office of the Deputy Mayor for Education and as the founding Executive Director of the DC Alliance of Youth Advocates, a coalition of over 100 youth-serving organizations focused on youth employment, youth homelessness, and out-of-school time programs.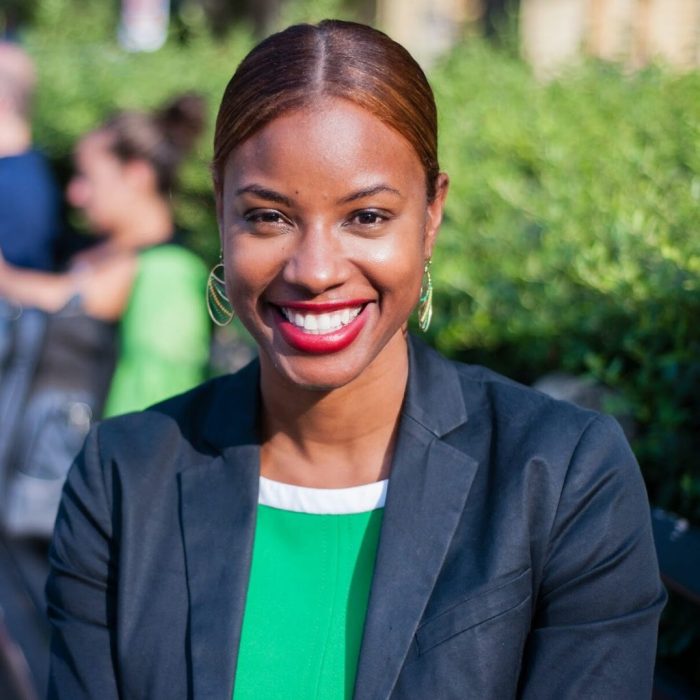 I'm the CEO of Urban Alliance. For those of you who haven't heard of UA, we're a national organization focused on providing job skills, mentoring, and paid internships to young people of color in high school. We try to give our young people the tools they need to overcome all of the barriers and challenges they face to equitably accessing economic opportunity.
When we first heard about the work that Emily Lockwood was doing at the Gates Foundation, the research on occupational identity and youth identity and social capital–it felt like a more formalized, affirming way of talking about why UA does the work we do: how do you help young people discover who they can be and what are all the possibilities open to them?
At UA, we are working with kids whose schools and families don't have access to the resources (training, networks, jobs) that students need to bridge the gap. How young people think about their future careers and lives, and the support they're given to do that–that all connects to their chances for future economic mobility.
Another important piece of the research to us was the importance of identity and self-advocacy to youth. Though we've always been an organization deeply committed to leveling the playing field for youth of color, the Black Lives Matter movement and the events over the summer really prompted us to be more open and candid about the struggles our students face – and to give them a platform and a space to own their identity. We held a series of community conversations to give youth a safe space to grapple with events as they unfolded. We re-envisioned our year-end event to center it around what we were hearing from youth about how the movement had affected their hopes and dreams, and how they were embracing their voices as agents for change.
And this year, we have continued that conversation with a new event, Leaders Like Me, which is a monthly series of youth-led conversations with leaders of color across a variety of industries. Additionally, Urban Alliance is launching a Youth Evaluation Advisory Council to center student voices in the evaluation process from beginning to end, ensuring that our program is constantly working to improve and meet our students where they are.
After I joined Equitable Futures as an advisor, COVID hit — and at first, it felt overwhelming, like helping young people on their pathways was less important than immediate needs like making sure families had food, shelter, and could stay healthy. It felt, at first, like there was no space or air to think about helping young people get jobs.
But then the Black Lives Matter movement ramped up again, and we were in the middle of two major disruptions — the pandemic and racial justice activism. And at that moment, it became so apparent to me that we can't stop thinking about young people and their futures. The pandemic and the racial justice events — these were especially difficult for young people of color, whose communities were among the hardest-hit by the virus. And young people nationwide were actually the age group most impacted by COVID-related unemployment.
So if there was ever a time when we needed actionable tools to help us understand what is going on with young people right now, and still support them to reach their future goals, this is it. And this toolkit can be an important primer for nonprofits and for policymakers to understand that and how to create youth-centered roadmaps for real systemic change.
For example, at Urban Alliance we utilized some of the Equitable Futures research into COVID's impact on young people in our recent brief, 'More Than Just Pocket: Why the Surge in Youth Unemployment Should Concern Us All,' in which it was instrumental in helping us make the case that if quick, youth-centered action is not taken by employers, we risk leaving behind an entire generation as the nation begins to recover. The risk of disconnection after high school is already so high. 75% of disconnected youth have a high school diploma. So the disruption of post-high school plans could lead to a serious increase in national disconnection, something we are already starting to see. Having this research available to help make this case to employers and policymakers in a timely way is incredibly valuable.
Urban Alliance was able to apply the insights from Equitable Futures into our work to help young people of color access real workforce experience, social capital, mentorship, and the social skills that are so necessary for the workplace. However, if other leaders working with young people can't immediately apply the insights and tools to their own work, I think that probably comes down to a lack of capacity more than anything else. UA's work depends on partnerships with schools and educators. And if we meet a principal or a teacher who doesn't seem able to take us up on the resources we're offering to train and mentor and place young people in internships, it's usually because they've got too many academic targets to meet and too few resources to add workforce development to their plates.
But I think that nonprofits like Urban Alliance have the capacity to more holistically address students' needs. If the educational and employment systems are re-designed to focus more on young people's voices and identities, we can create stronger partnerships with schools and employers so that we can do that work of helping young people form their occupational identities through social and emotional skills, and meaningful paid work experiences. And then together, we can begin to knock down institutional biases and inequities so that young people of color can get to where they want to be.
Explore More Voices
Voices from the Field
Youth Quote Library