Centering Youth Voices: Power On! Case Study
At a Glance
Power On!: A Graphic Novel of Digital Empowerment, scheduled for release in 2022 by MIT Press, tells the story of four young friends, Antonio, Christine, Jon, and Taylor, as they navigate high school and learn to use computer science to challenge structural and racial barriers in their own lives and communities.
The graphic novel, based on groundbreaking research about disparities in learning opportunities in computer science that fall along race and socio-economic lines, as well as the real-life experiences of teenagers, is written with insights and feedback from young people themselves. Power On! is a catalyst for reimagining how computer science is taught and learned—and how Black, Latinx, and other historically underrepresented youth can intervene in a world where technology increasingly shapes nearly every aspect of our lives.
This case study describes how the graphic novel was co-created by an innovative partnership among researchers, youth, and educators. The case study offers a model for adapting educational research, typically written by and for adults, for youth audiences—arguably the audience with the most at stake.
Power On! offers a dynamic example of how educational research—typically written by and for adults—can be adapted to engage the audience for whom the stakes couldn't be higher: young people themselves. Closing the equity gap in education requires deepening our understanding of who young people are and what they care about. This is especially true in the case of youth who have been historically marginalized. As the graphic novel illustrates, centering young people in their own narratives and foregrounding their agency can help us reimagine an educational system that is equitable and connected to their lives, values, and hopes for the future.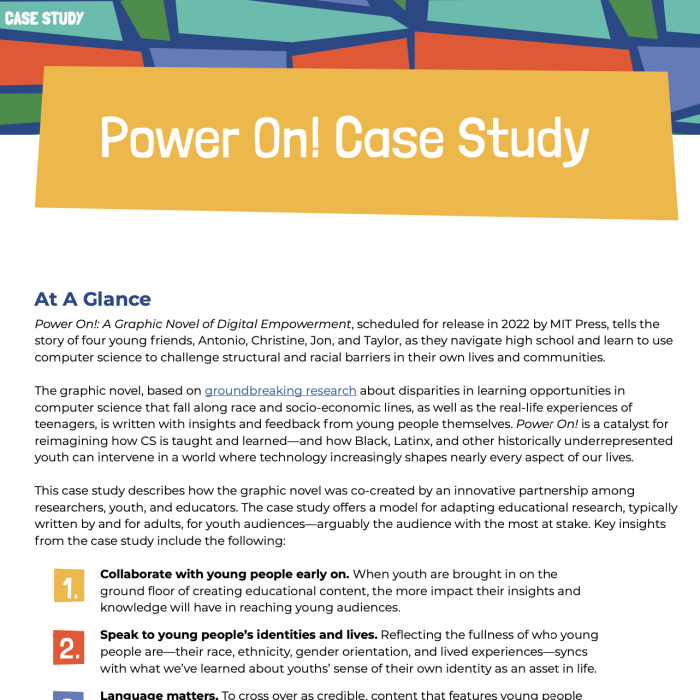 Explore More Voices
Voices from the Field
Youth Quote Library